This post describes how to prepare a delicious brownie, with chocolate and walnuts. Normally, following this brownie recipe you will bake it quite creamy on the inside. I only add few walnuts because, although I like the taste of walnuts with chocolate, I don't like to find a lot inside my brownie.
It's been already several years since I left Madrid, leaving behind lots of unfinished plans, such the one of hanging out for a brownie. That plan came up after the brownie binge of my sister and some of her friends while having dinner at home one night. I have to say that Friday afternoon I went out leaving a just baked brownie for the weekend and when coming back I found nothing, absolutely nothing, of that brownie. I do not remember what happened next, maybe I baked another one or maybe I spend the weekend still wanting to eat some brownie. What did happen was that from that day one of my sister's friends asked me to have time for the next time she comes to bake a brownie together. There were several attempts, but we never managed to match our schedules. So, that plan is yet to be done.
Finally, just to say that I have my special pan for brownies. That is, my brownie pan. If there are someones that have their special pan to make the bechamel [1] for croquettes, someones that have the pot to make stew or others, like my mother, that has her special pan for Migas [2], I have a pan that I use almost exclusively for brownies. A square pan 18 cm side, where I think it is where I bake the best brownies. Obviously, I left Madrid behind with many plans, but I brought my brownie pan .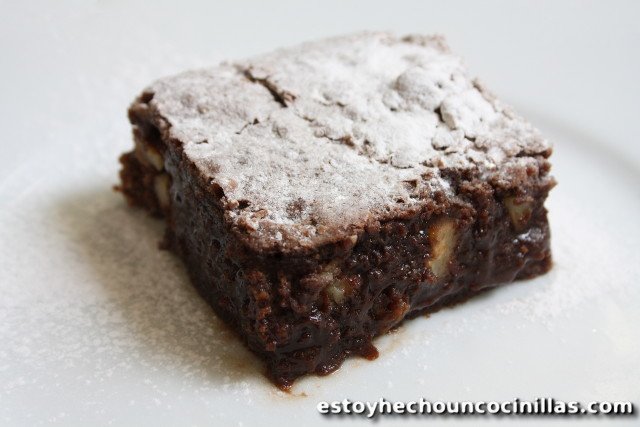 Brownie Recipe
Average Rating:
Serves:
4
Time:
Difficulty:
Easy